It's almost the end of the year! Yeah or maybe it's UGH! This is a tough time of the year for teachers and kids. I think we are more ready for the end of the school year than they are.

End of Year Activity
One of my favorite books I like to read to my students is Last Day Blues by Julie Danneburg. I have read several of her books this year to my kids and they always enjoy them.
While I was looking for activities to do with this book I ran across Jordan's blog, Life is Better Messy Anyway. She has a lot of fun ideas to go along with the book. One of the ideas I liked is the Mystery Person.
Mystery Person 
The Mystery Person activity is a template of 24 boxes that has a clue about each student in the classroom. I added some of the other teachers and staff members in the school that my kids had contact with. Give each student the template with the clues and see if they can guess who the mystery person is.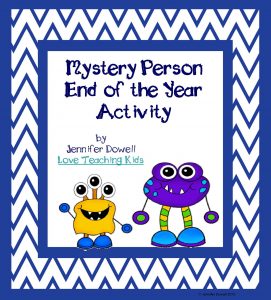 I hope you like this activity. Good luck!