It's  time for our research project! I teach second grade and we spend six weeks on research. This year our second graders are researching people. I let the kids pick the person they wanted. Our school has a subscription to PebbleGo. It is perfect for this age group. The kids looked on the website and found someone they would be interested in researching. After the students picked their person, they made a research folder to hold all of their information.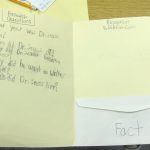 On the front of the folder the students have the name of the person they are researching. On the left hand side the students wrote down 5 questions they wanted to know about their person. On the right hand side they wrote down the name of the resources they used. On the bottom they have an envelope where they store their index cards. This student is researching Dr. Seuss. She is still in the early stages of her research. I did help her change some of her questions.
After the students wrote down their questions they went to different resources to look for the answers. We worked as a class to do our research. I went step by step with them on Pebblego.com. I showed them as a class how to find their person and how to cite the website. I love this website because it reads the article to the students if they need it. It is very helpful to some of my students that struggle with reading. The students also looked on Encyclopedia Britannica for kids and Fact Monster for information. The students also looked in the library for any books on their person.  The students wrote down the information on their index cards. On the back they had to cite the website.
Here are some of the children doing their research.
This is where we are right now. We are in the middle of the research section. I hope to be done in a couple of days so we can begin writing the research  project. I have made a rubric that can be used after the research section is done. This is a very simple rubric that I will use to take a grade on this section of the research project.  research rubric
I will post more about the writing and presenting of our projects soon.