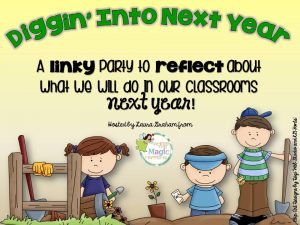 Welcome to "Digging Into Next Year"  Linky Party hosted by Laura at  Where the Magic Happens. 
Integrate Technology in my classroom
I am fortunate enough to have a Promethean Board in my classroom. I  have had one in my classroom for about 5 years now. I do almost all of my whole group teaching using the board. It has been a great way for the students to become more engaged in their learning. Below is a picture of my class doing a great inferring lesson that I use by Hello Literacy.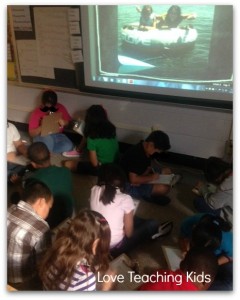 The interactive board  is also a great way to assess what the students have learned. I have Activotes that have letters on them and the students are able to choose a letter for multiple choice answers. I can see the results of what they chose instantaneously and I am able to see which student chose what answer. I am able to see what I need to reteach and move on from there.
I also integrate technology in my classroom by using Netbooks. Our grade level has a cart of Netbooks that are available to us. I use them a lot during research. It does take a while to get all of the Netbooks out and setup for each student but, it is worth it. I go step by step with the kids using my interactive board on the websites they should go to for research on their topic. Our school has a webpage that has all the links of the websites that are great to go to for research. The kids really get into the research and it's great to see them get so involved.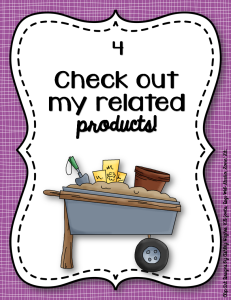 I created an internet scavenger hunt recently to help my kids learn how to find information on several websites. Click on the picture below to download it. It's a freebie! Leave some feedback and let me know if you like it.
How do you use technology in your classroom? Let me know in the comment section below.