Need help logging in or accessing your resources?
Having trouble printing?
Get answers to FAQs and troubleshooting tips below.
What can we help you with?
Printing & Editing Issues
All files have been saved in high resolution ready for you to print either at home or via a printing company. Follow the steps below to print your PDF.
1. Click to download the file from your account.
2. Be sure to save the file to your desktop computer rather than just open the resource.
3. Open the file with Adobe Acrobat Reader. (You only need the free version!)
4. Select File>Print and then ​ensure the printer settings are correct.
I recommend printing at High Quality for the ​most accurate and highest print quality.​
If you're having trouble printing a PDF, please be sure that you're opening the PDF with the latest version of Adobe Acrobat Reader. Printing PDF files from your web browser or the Preview app frequently cause errors such as black boxes behind images, fonts not printing correctly, etc.
1. Open the PDF file with Adobe Acrobat Reader
2. Click "Print"
3. In the "Page Sizing & Handling" section, select "Shrink Oversized Pages" if needed.
4. Click on "Advanced"
5. Check the "Print as Image" box.
6. Print the document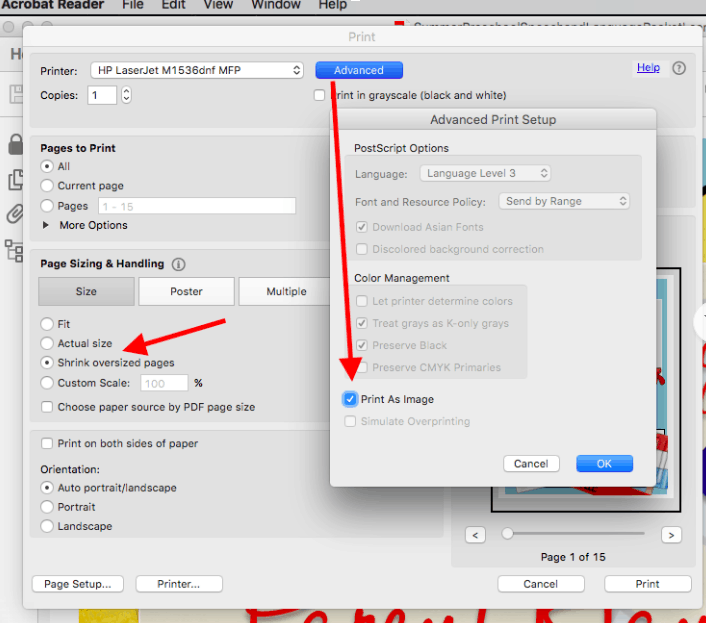 All resources are designed to be printed on 8.5×11 paper. Be sure to select 'fit to page' when printing your resource to ensure that important parts of the page aren't being cut off during the printing process.
IMPORTANT: Resources that are designed to be printed on Avery labels must be printed at actual size in order to line up correctly on the label sheet.
If you didn't find the answer to your question on this page or still need help, submit a support request below.