I finally have my classroom environment set up! It has taken me longer than I expected. Moving classrooms and changing themes definitely took a while. I love that I have an atrium attached to my class. I can open the sliding glass door and my students can read outside or do some writing. They are really enjoying having an extra workspace.
Here are the before pictures.
Here are the after pictures. I am really enjoying the long classroom. It did take a little creativity in setting up the room.
Small Group Area
I do not use the chalkboards so, I have covered the ones on the side walls with bulletin board paper. I do not have enough room for a kidney table so I use a trapezoid table for my small group area. I also have my bucket seats there for my students. They seem to really like sitting on them. This board is for my anchor charts that we are currently working on.
Classroom Library
The classroom library is my students' favorite area of the room. I have my books organized by genre in baskets. I wish I could hang decorations from the ceiling but, the fire marshall doesn't allow hanging items. So I just have to do what I can with my classroom environment.
Word Walls
I have a very large board for my word wall. I also have a seperate board for my content word wall.
Other Boards for my Classroom Environment
I use my closet doors to list where the students go for reading and math workstation. I also have a friends and family board where students will bring pictures of their family from home. This is part of Conscious Discipline. You can read more about that here.
In the front of the classroom, I have my schedule and student objectives listed.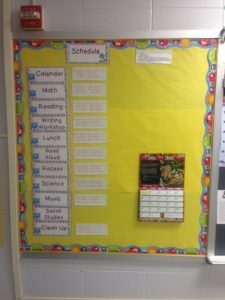 I really tried to stick with just a couple of colors around the room. I have tried to leave the walls bare so I have room for anchor charts and student work. I have used the monster theme in my class but, I don't feel like it is too overwhelming. I have tried to keep it toned down.
Thanks for stopping by and visiting my classroom!
If you haven't downloaded my free sub plans make sure to click on the picture to get them.