Math word problems are always so difficult for 2nd graders. My kids do not like working on them and I am always looking for something to keep them interested. We did an Easter egg word problem scavenger hunt last week. I made 12 colorful eggs with all different types of math questions. There was addition, subtraction, time, and measurement. They all dealt with Easter. An example is below.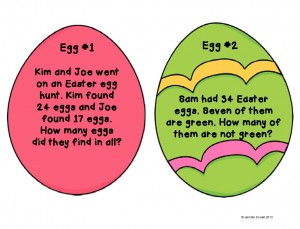 I posted them up and down our hall and the students had to "hunt" for them and solve them by showing their work. I sent them in groups of two and gave them 10 minutes to see how many they could answer correctly. I sent them throughout the week when had some extra time. Some of the other 2nd grade classes sent them all at once or did it all in one day. All the kids really enjoyed it!
This could also be done during any type of holiday. Just pick some clipart and make up some word problems to put on them and post them on the wall somewhere. You could do Earth Day with recycling items or spring with flowers. Have you ever tried anything like this? What have you done?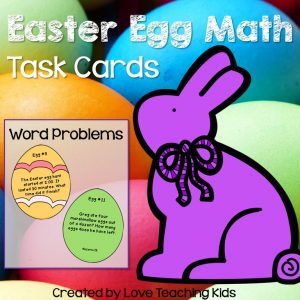 If you like this activity I have it in my shop on TeachersPayTeachers.
Click on the picture to find out more information. I have them in color and black and white.
See you soon!