Chinese New Year begins January 28th and lasts for 15 days. This is one of my favorite holidays to teach my students about. I am fortunate enough to have grown up with many Vietnamese friends. I also teach in the same community and have had many Vietnamese students throughout the years. In Vietnamese culture, the celebration is called Lunar New Year.
I have listed some of the books and activities that I like to read and do with my students during Chinese New Year.
My favorite book is Sam and the Lucky Money by Karen Chinn. This book is about a little boy who gets a lay see (red envelope with money) and can't decide what to buy with it. After seeing a homeless man without any shoes, he decides to use his money to buy the man some socks. It is a really great story to teach about generosity also.
Picture Books
If you have Discovery Education there is a short video of this book. After reading the book I use the discussion cards made by Laura Candler to discuss the story. This is part of her Chinese New Year Activities packet. She also has some other great activities in the packet.
Another book that I read to my students is Dragon Dance by Joan Holub. This is a lift the flap book. It is great to use as an introduction to the Chinese New Year. It describes the customs of the holiday in an easy way for young children to understand. One of the activities I do with this book is to make a dragon mask. You can find the Dragon Mask template by clicking on the title. I also like to give my students a pair of chopsticks and have them eat popcorn with them. It is fun to watch them try to pick up the popcorn!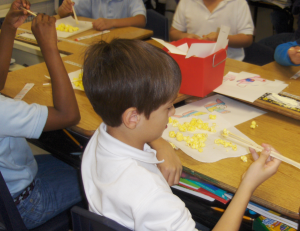 D is for Dragon Dance, written by Ying Chang Compestine is an ABC book. Each letter describes a Chinese New Year tradition. After reading this book with my students I have them make a circle map of 5 customs that are done during the Chinese New Year. I also have the children make a Chinese lantern. They always have so much fun making the lantern.
Chinese New Year Activities
Click on the title Chinese Paper Lantern to download the directions.
I also love reading The Pet Dragon by Christopher Niemann. This is a great book about a girl and her pet dragon. The author incorporates the Chinese symbols into the pictures. It is a fun way to introduce the Chinese language to students. After I read the story I give students a copy of some of the Chinese characters from the story. I then have the students write a sentence using the Chinese characters. They really love this activity!
This is the Chinese New Year Unit that I use with my class. Stop by my store to check it out.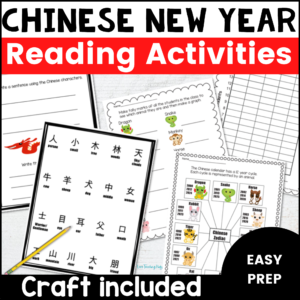 Do you celebrate Chinese New Year in your class? What kind of activities do you do? Let me know.
Gung Hay Fat Choy!