Earth Day is April 22nd! I love teaching Earth Day with some of my favorite children's books. My favorite book to use for Earth Day is The Lorax by Dr. Seuss. This iconic book teaches students the importance of taking care of our earth. Dr. Seuss wrote this book long before others were concerned about these important global concerns. As the Lorax says, "Unless someone like you cares a whole awful lot, Nothing is going to get better. It's not."
The Lorax Literacy Activity
This is a perfect book to use for teaching cause and effect.  Everything the Once-ler does to the land has an effect on the other animals living there. The lesson below is an activity I have been using with The Lorax for many years that is a cause and effect activity. There is also a writing activity that asks the students what they would do with the last Truffula tree seed.   The children have always enjoyed this book and lesson. Click on the picture to download this free activity.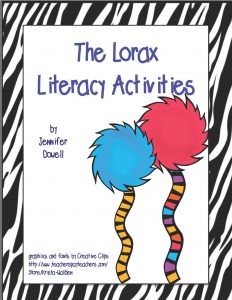 Other Earth Day Books
I usually teach Earth Day for a whole week. Another book I use is Just a Dream by Chris Van Allsburg.
This book is similar to The Lorax in that, it shows what happens to our Earth when we don't take of it. It is about a boy who dreams of the future. He travels to different places and can not believe what the future really looks like. I have created a literacy activity to go along with the book. It has cause and effect cards and a comprehension page. If you would like to check it out, click on the picture below.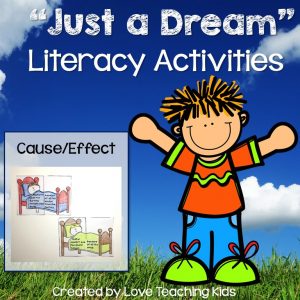 I also read  Michael Recycle
 by Ellie Bethel, The Great Trash Bash
by Loreen Leedy, Where Does the Garbage Go?:
by Paul Showers, and Earth Day–Hooray!
by Stuart Murphy.
What books do you like to read for Earth Day?