Pirates are so much fun! At the end of the year my team always does a whole pirate unit. The kids have so much fun and don't even realize they are doing work.  It lasts about two weeks and the kids write everyday. It's amazing to see them grow in their writing.
We start the unit off by reading "How I Became a Priate" by Melinda Long. There is a packet that abcteach.com has with this story that I have used for several years. It is helpful to have when you have lots of end of the year testing that needs to be done and you need the other students doing something quitely.
There is also a sequal to this book called "Pirate Don't Change Diapers".
After reading these stories my kids make a map using a paper lunch bag. They cut the front out and draw a map on how to get to the treasure. After drawing the map the students crumple it and tear pieces off of it to make it look worn. Then they write directions on how to get to the treasure.
There are a lot of fun books to read about pirates. Here are a few of my favorites.
After reading the story "Roger the Jolly Pirate" we make our own Jolly Roger flags. Then the kids have to write about why they chose their design. "Pirates- Robbers of the High Seas" is a nonfiction book. The students make a web of all the facts that are true about pirates. You could also do a story map after reading one of these stories.  Below is one that I have created. Click on it to download it for free.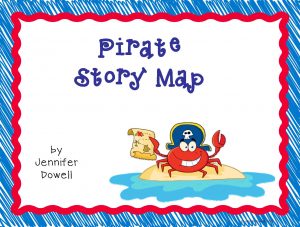 If you are interested in learning about some of the other writing ideas that can be done with pirates go by more teacherpayteacher store and check out my Pirate Writing Unit.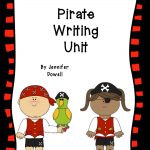 I hope you have fun trying out some of these activities!