Welcome to week 2 of  the "Digging Into Next Year"  Linky Party hosted by Laura at Where the Magic Happens. If you missed last week check out my post on Classroom Organization.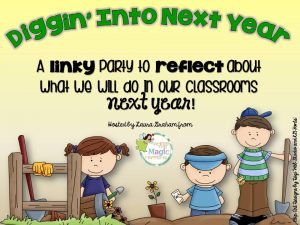 Organize my math workshop
I have been doing math stations for several years. I previously taught 2nd grade and was very comfortable with my schedule and curriculum. This past year I switched to 3rd grade and well… let's just say math turned my whole world upside down. The curriculum is much more difficult and time-consuming. I had a lot of students with learning disabilities so I had to slow down the pace of the curriculum. On the plus side, doing small groups with many of my students was the only way most of them learned. I also had another teacher in there to help with my inclusion students. Enough of that… let me tell you what I did with math workshop with my 3rd graders.
My goal was a 20 minute minilesson on the objective we were learning that day. Sometimes it went a little over. I would then start my math workstations. I had 10-11 workstations with 2 kids in each group. I learned several years ago that 4 kids in a group was a party and 3 kids didn't always work with partner games. I like having 2 kids in a group because the noise level is much more manageable. That doesn't mean I have 11 different activities. Sometimes I had the same activity for 2 groups. They were just in different parts of the classroom. I would just have them sit on the floor somewhere in the classroom. If you would like a copy of my math workstations click on the document to download it for free.
I would spend the first week or two introducing  a new workstation daily and monitoring the students to make sure they new how to do the activity properly. Most of the activities had directions that were easy to read themselves. I had all the math activities in one central location. I kept everything on a rolling shelf that was labeled with each station. The students would stay in the workstation for 20 minutes and then do independent work for 20 minutes.
While the students were in math work stations I would meet with 4-5 students to go over the standards they were struggling with. This was a great way to see the students thinking and have them see how other students worked out the problems. I had them come back to my small group table. I used this area for both my reading and math. I had all of my math manipulatives in a teal storage container to distinguish it from my reading materials. I also had white boards for the students to use to practice math computation.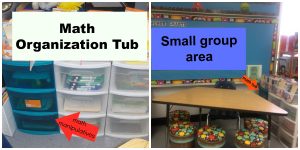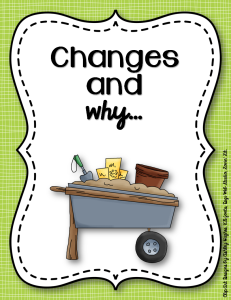 First: I really need to label my tub on the outside so I now what is in there. I also need to go through the tub and organize it more for 3rd graders. I had many manipulatives that I used for 2nd grade and didn't even use this past year.
Second: I don't need to be so hard on myself . This past year was a huge growing year for me. The pressure of the STAAR (Texas State Assessment test) really got to me and I don't feel like I did my best with math workshop.
Third: I am going to be reading Guided Math over the summer and plan on implementing some changes based on what I learn. Our district is really leaning towards the model found in this book. We will start implementing Guided Math throughout our district more next year.

Math Task Cards
I use a lot of word problems during my math workstations. I make a copy of the task cards and put them in a station for the students to work on. I change them throughout the year with different standards and themes. Below are a couple of the task cards I have used in my class. Click on the cover page to go check them out.
Make sure to go by Where the Magic Happens to check out the other teachers and how they organize their math workshop. Have a great week!