Task Cards are a great way to review concepts in your classroom. There are so many ways you can use task cards other than putting them in a work stations.  I want to share with you 5 creative ways you can use task cards in your room that your students are going to love.
#1. Use them as a scavenger hunt
This is one of my favorite way to use task cards. You can put them up in the halls or in your classroom and have students walk around looking for each number. I let them use a clipboard to write their answers. They always love using a clipboard. I usually have them work with buddies also. They are learning and having fun at the same time. To see how I've used them in the past check out this post.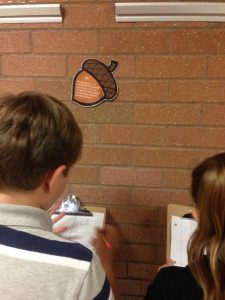 #2. Use them in a game of Scoot
Scoot is a fun game where you move around the room from task card to task card. Kids typically move from desk to desk going in order. There is a time limit that the student gets for each card then the teacher says "Scoot" and all the kids move to the next card. You just need to make sure you have enough task cards for each child in your class to "scoot" to a new card.
#3. Use them as a class review game 
I'm always trying to come up with fun ways to review for assessments. I show a task card on my board and the students answer it. If they get the right answer they get to do the game. It may be throwing a ball into a basket or throwing a velcro ball onto a board with numbers. Using Jenga is one of my students' favorite games. If the kids get the answer right they got to pull a Jenga piece. There are numbers on the piece and those numbers represent how many points their team will get.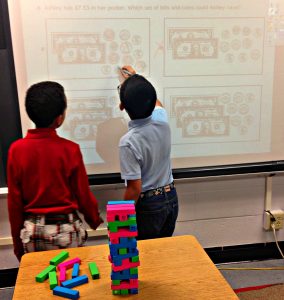 #4. Use them with a board game
Another way to use task cards is to use them with a game board. This can be played with 2-4 kids. If the students answer the question correctly they get to roll the dice and move their game piece that many moves. You can just use any generic game board that pieces can move around a board. My students really enjoyed using task cards this way.
#5. Use them with an egg hunt
 This is always the favorite way to use task cards with my students. Fold up the task card and put it in an egg. Put the eggs outside and let the kids have fun hunting. This does not only have to be done at Easter time. It can be done during all times of the year.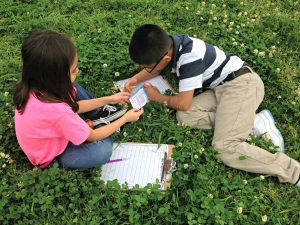 If your students are bored using task cards, try using them in a different way. Let me know in the comments below which one you like the best.